Ship Fast with ShipRush Web
With ShipRush discounts and side-by-side carrier rate shopping, anyone can ship smart and fast every time!
Product Features
ShipRush is the premier shipping solution for companies with multi-carrier shipping needs. With ShipRush, anyone can select the smartest way to ship an item.
Fast Setup
Easy-to-use, cost-effective cloud-based shipping solution is up and running in 20 minutes.
Automation Rules
Set rules and automatically ship via the lowest cost option, track shipments, connect with customers and so much more!
Free Customer Service
ShipRush offers phone support for customers at all shipping levels, not just those with premium accounts.
Parcel and LTL freight in one solution
ShipRush is the only parcel solution in its price-point that offers built-in support for both parcel and LTL freight.
Try It For Free!
ShipRush Web easily integrates directly with over 95 of the best ecommerce, payment and accounting systems, including Amazon, Bigcommerce, eBay, Etsy, Fulfillment by Amazon, Magento, Microsoft Dynamics CRM, Salesforce.com, Walmart Marketplace and more. A quick ShipRush setup wizard gets you shipping in minutes.
Discount Postage
Ship with one or multiple carrier accounts. Print shipping labels and documents for FedEx, UPS, USPS, and other major US and global carriers. Seamlessly switch between carrier accounts. Rate shop side-by-side. Use your FedEx, UPS and USPS discounts, or take advantage of one of the ShipRush discount programs. See our full list of carriers.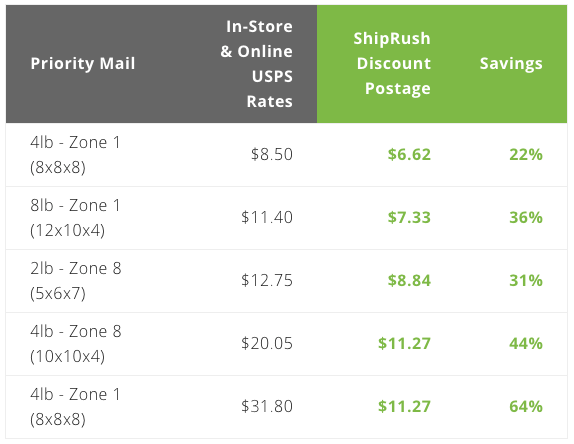 Insurance Coverage That Works For You
Your time is precious. Don't spend it on lengthy claims processes.
We Partner With Over 95+ Ecommerce Systems
For small businesses, marketplace connectivity is a must. From Amazon, Ebay, Etsy, eSquare, Magento, BigCommerce, 3dcart, and many more, our solutions help to stream information into a central dashboard to help you consolidate orders and drive down costs.